Guerlain Meteorites Bubble Blush in 02 Cherry Review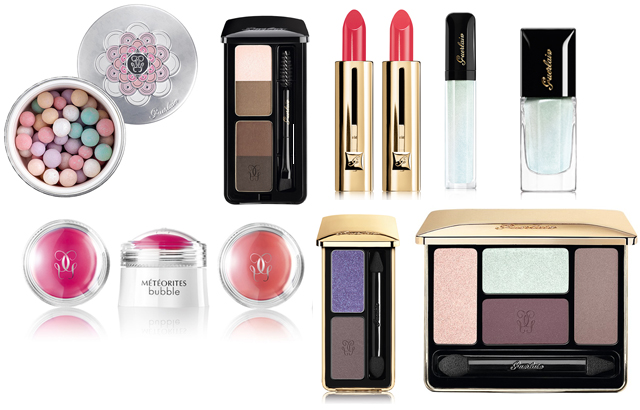 Before spring officially ends, i'd like to review some of my spring 2014 make ups that i've bought recently.
Today i'm going to review one of my most favorite stuffs this spring, Guerlain Meteorites Bubble Blush in 02 Cherry from Guerlain Meteorites Blossom collection.


To be honest, actually the main reason why i bought this blush was the packaging. It has a cute round packaging that's round at the top and flat at the bottom. Unlike the usual Guerlain luxury packaging, Bubble Blush' packaging is made from plastic with simple design, which i know disappoints some of Guerlain lovers. It's not an issue for me though, i think the packaging is so cute, makes the bubble blush stands out, it doesn't feel or look cheap for me at all.
Cherry is a fuchsia pink blush with blue based and satin finish.
It has a very~~~~~~~~ nice smell which i really love. It smells like the meteorites compact and the meteorites perles to me, i'm not good on describing scents, but based on
Temptalia
, this blush has a delicate violet scent.
Similar to Chanel Le Creme Blush de Chanel, this blush feels powdery once applied on skin. It's a good point for me, because it means it will stay longer on my oily skin and won't make my skin looks too shiny.
This blush have amazing pigmentation and longevity and very easy to blend. It lasts up to 6 hours on me without any touch up.
(Ah, this reminds me that i haven't write any review about any Guerlain product before. Will write more in the future i promise, Guerlain has so many great product.)

You have to apply this blush quickly and carefully as this blush will set and stay in your skin once applied.
I usually dab it on my skin and then blend it with my finger. But you can always use brush if you like.
Cherry has easily becomes my favorite blush at the moment; it has cute packaging, the shade is beautiful, it has a very nice scent, very pigmented and long lasting. Not to mention how it gives me beautiful flush and brighten up my complexion!
Posing time! Hehe.
My softlens are Ageha Caramel Brown from Japansoftlens