"Back to 80's", he said.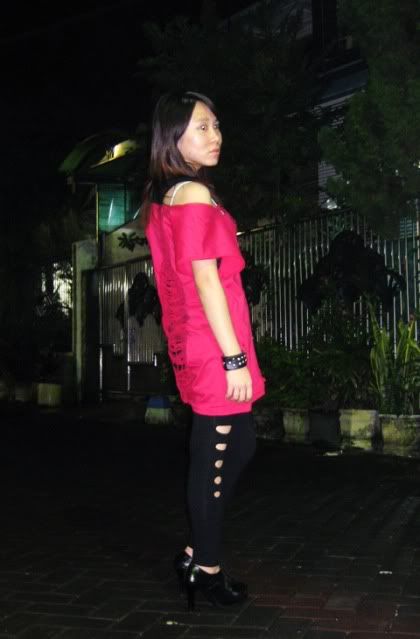 I finished the shirt 2 days ago in an hour, after abandoned it for 2 moths or more :p
i was too lazy and busy, but then i remembered about the shirt,
and started to do it or else i would never finish it.
And then i did the leggings which inspired by American Apparel leggings,
i think i have to ripped it more, but for now it's enough.
I felt wonderful yesterday, even though i was so tired cause i had to work since 7am,
which as i said before, i'm so not a morning person,
but thanks to my outfit that had brightened my day.
And then when some guys saw me at mall after i watched Angels & Demons last night,
one of them said "back to 80's" lol.
I mean, i don't know much about 80's fashion, since i was too young to enjoy fashion at 80's.
All i know about 80's fashion are studded, headband, baggy pants, Madonna, big curly hair, neon colors, sneakers and colorful leggings,
so i don't know which part of me that reminded him of 80's fashion.
Any clue people ?
DIY shredded tee; DIY ripped leggings; Oxford ankle boots